My Blog
Posts for: February, 2017
By Ash & Roberts
February 14, 2017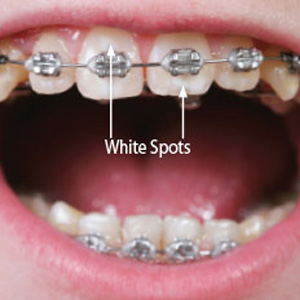 Braces can be a long, involved process, but gaining a more attractive smile and better oral health is worth it. Sometimes, though, braces can produce unintended short-term consequences.
Brace brackets and wires do the work of moving teeth to better positions. They can, however, hinder the wearer's hygiene efforts to remove plaque, a thin film of bacteria and food particles, from tooth surfaces. Plaque buildup increases the risk of dental disease and other ill effects.
One such effect while you're wearing braces is the formation of tiny spots that look pale and chalky on otherwise smooth and polished enamel. These are white spot lesions (WSLs), where acid has remained for too long on the tooth enamel. They occur because acid-producing bacteria escape removal during brushing and flossing due to the braces hardware.
We want to try to prevent WSLs while wearing braces, and not just because they're unattractive. You're actually looking at enamel erosion, which could lead to cavity development at those weakened spots.
Although difficult for you as a braces wearer, daily brushing and flossing is crucial to WSL prevention. You'll need to take more time to be sure you're reaching all around the wires and brackets. You can improve your effectiveness with special brushes for braces and floss threaders or water irrigators. You can also help keep acid levels low by cutting back on acidic foods and beverages, especially sodas, coffee or spicy foods.
Even if you develop WSLs we can treat them effectively, especially if caught early. One way is by aiding enamel re-mineralization through saliva stimulation (the mouth's acid neutralizer) or applying fluoride to the teeth to strengthen enamel. We can also use caries infiltration, a technique that injects tooth-colored resin below the surface of the lesion. This strengthens the weakened enamel and gives the area the appearance of translucence like normal enamel.
While you're wearing braces, focus diligently on keeping your teeth clean of plaque and keep up your regular cleaning visits with us. If you notice any unusual discolorations or abnormalities, see us as soon as possible. Stopping WSLs from developing will help ensure your teeth are healthy and attractive after the braces come off.
If you would like more information on dental care with braces, please contact us or schedule an appointment for a consultation. You can also learn more about this topic by reading the Dear Doctor magazine article "White Spots on Teeth during Orthodontic Treatment."
By Ash & Roberts
February 09, 2017
Keeping your teeth healthy and looking great can be challenging. There are a number of things in your everyday environment that can
damage and change your teeth. If you have healthy but unattractive teeth and you want to bring new life to them and your smile, veneers could be the answer. Veneers can be installed on your teeth in a couple of visits and they will protect your teeth from additional damage. The process is fairly simple and pain-free when completed by Dr. Steven Ash and Dr. Brian Roberts at Ash & Roberts, DDS in Centralia, WA.
When visiting your cosmetic dentist in Centralia, they will want to look over your teeth and discuss your dental hygiene. In some cases, x-rays may be taken so that the dentist can get a better look at the situation below the surface. A mold is created from your teeth to create the veneers that best suit you. The teeth are then prepared which may include removing a portion of the teeth to ensure that the veneers fit properly. They are held in place with a dental adhesive that is going to act quickly. The difference in your teeth will be noticeable right away and the veneers can be used as the teeth would normally be used.
Getting a beautiful smile doesn't have to be difficult. Veneers are a great way for Dr. Ash and Dr. Roberts at Ash & Roberts, DDS in Centralia, WA, to give you the look you have always wanted. Bringing life back to your teeth and changing the first impression that you give off is just a dental visit away. Don't wait to see how your smile can change how you feel about yourself. Call us today at (360) 736-8380 to learn more about how you can change your smile for the better and get on your way to the best look for you.