My Blog
Posts for: April, 2017
By Ash & Roberts
April 27, 2017
Do people keep telling you that you should smile more? If you're unhappy with the way your teeth look, you probably do your best to
keep them out of sight. Cosmetic dentistry procedures offer solutions that will transform your smile, no matter what types of dental issues affect your teeth. Dr. Steven Ash and Dr. Brian Roberts at Ash & Roberts, DDS in Centralia, WA, discuss a few procedures that will change the way you feel about your smile.
Porcelain veneers
Porcelain veneers are a good option if a small section of your tooth enamel has begun to chip away or if small cracks crisscross the surface of your tooth. Veneers, tooth-shaped pieces of porcelain, are placed over the fronts of your teeth to conceal the little things that make you feel self-conscious about your smile. Whether you're concerned about dull teeth or don't like the noticeable space between your front teeth, you'll want to consider this versatile option. If you're concerned about a small flaw on the front of a tooth, ask Dr. Ash and Dr. Roberts about veneers the next time you visit their Centralia office.
Composite bonding
Did you enjoy playing with Play-Doh when you were a kid? Because the modeling compound was so soft, you could create everything from elephants to tiny buildings with it. Unfortunately, if you forgot to put the Play-Doh back in the can, you woke up the next morning to discover that it had turned rock hard.
Composite bonding works much the same way Play-Doh does. Dr. Ash and Dr. Roberts shape soft composite resin to repair damaged areas of your teeth, hide discolored teeth or improve the shape or length of teeth. After the resin is applied to your teeth, a hardening light cures it in less than a minute. Because composite resin is available in shades designed to match common tooth colors, the treated area will blend in with your smile perfectly.
Crowns
A weak tooth can become a broken tooth with just one bite. Crowns prevent weak or cracked teeth from breaking and also change the appearance of your teeth. If a tooth has already broken, it may be possible to restore it with a crown. Crowns fit over teeth snugly and offer excellent protection on all four sides. Although porcelain is commonly used to create crowns, they're also available in gold, metal alloys and resin.
Isn't it time you showed your smile a little love? Call Dr. Ash and Dr. Roberts at Ash & Roberts, DDS in Centralia, WA, at (360) 736-8380 to find out which cosmetic dentistry treatment is right for you.
By Ash & Roberts
April 15, 2017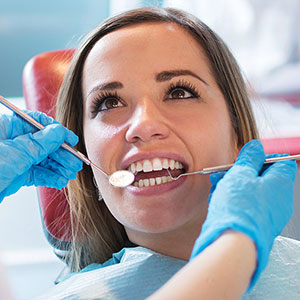 If you suspect you have periodontal (gum) disease, it's important to get a correct diagnosis and begin treatment as soon as possible. The sooner you begin treatment the better the long-term outcome.
Gum disease is a bacterial infection that's most often triggered by plaque, a thin film of food particles on tooth surfaces. Plaque buildup most often occurs when a person doesn't practice effective oral hygiene: daily brushing and flossing and professional cleanings at least twice a year.
The most common type of gum disease, gingivitis, can begin within days of not brushing and flossing. It won't always show itself, but you can have symptoms like swollen, red or bleeding gums, as well as bad taste and breath. You could also develop painful abscesses, which are localized pockets of infection within the gums.
If we don't stop the disease it will eventually weaken the gum attachment to the teeth, bone loss will occur and form deep pockets of infection between the teeth and bone. There's only one way to stop it: remove the offending plaque from all tooth surfaces, particularly below the gum line.
We usually remove plaque and calculus (hardened plaque deposits) manually with special hand instruments called scalers. If the plaque and calculus have extended deeper, we may need to perform another procedure called root planing in which we shave or "plane" the plaque and calculus (tartar) from the root surfaces.
In many cases of early gum disease, your family dentist can perform plaque removal. If, however, your gum disease is more extensive, they may refer you to a periodontist, a specialist in the treatment and care of gums. Periodontists are trained and experienced in treating a full range of gum infections with advanced techniques, including gum surgery.
You can also see a periodontist on your own for treatment or for a second opinion — you don't necessarily need a referral order. If you have a systemic disease like diabetes it's highly advisable you see a periodontist first if you suspect gum disease.
If you think you might have gum disease, don't wait: the longer you do the more advanced and destructive the disease can become. Getting an early start on treatment is the best way to keep the treatment simple and keep gum disease from causing major harm to your teeth and gums.
If you would like more information on the diagnosis and treatment of gum disease, please contact us or schedule an appointment for a consultation. You can also learn more about this topic by reading the Dear Doctor magazine article "When to See a Periodontist."